RAY of LIGHT
Brand:

SUPERFURRY

Product Code:

BEARD POLISHER RAY of LIGHT

Availability:

In Stock
&..

Discover a fragrance that encapsulates the essence of the Mediterranean in a bottle - our 'Ray of Light' perfume. This scent is a dynamic fusion of zesty freshness from ripe oranges, harmoniously balanced with rosemary, and other traditional Italian healing spices. Picture the warmth of the midday sun in Italy, a balsamic heart that creates an inviting and comforting aura. As the day fades into a balmy summer evening, this fragrance lingers on, capturing the ethereal moment of a sunset, the last ray of light, a beam of pure satisfaction. Experience complex layers of assorted scents that evoke the spirit of Italy: passion, joy, and a distinct, charismatic temperament. Created in collaboration with a beloved individual, each layer of this fragrance contributes to its radiant character. 'Ray of Light' is more than a perfume; it's a mood-lifter, ready to be applied to accompany and elevate your day. Revel in the charm it brings and the atmosphere it creates, as every spray unravels the story of a Mediterranean summer.
COLLECT 10 BEARD POLISHER LIDS TO REDEEM YOUR FREE JAR OF BEARD POLISHER.
DETAILED SCENT PROFILE ? CHECK SPECIFICATION TAB !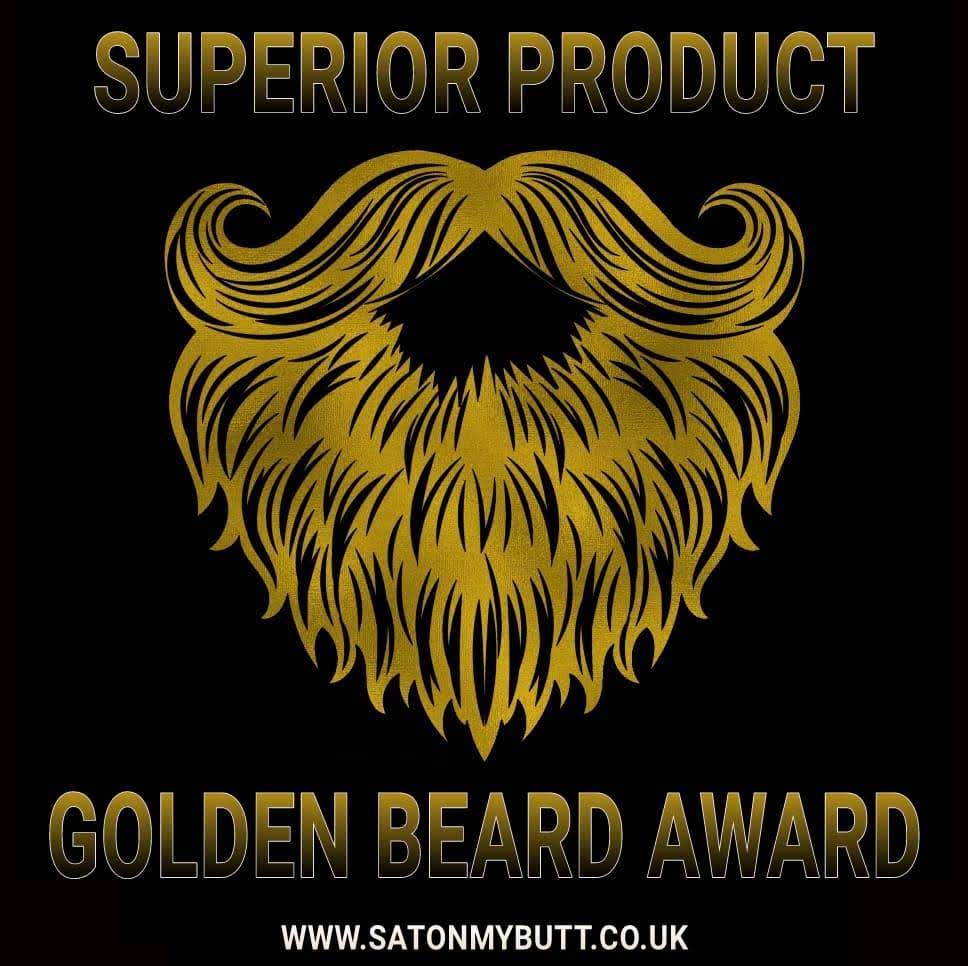 THIS PRODUCT HAS BEEN AWARDED A SUPERIOR GOLDEN BEARD AWARD BY: WWW.SATONMYBUTT.CO.UK
FRAGRANCE PROFILE
FRAGRANCE PROFILE
Fragrance Profile: Ray of Light is a captivating fragrance that captures the essence of a stunning Adriatic sunset, evoking a sense of warmth, tranquility, and natural beauty. It combines the vibrant and uplifting notes of orange, the sweet and comforting aroma of honey, and the captivating allure of balsamic spices. This fragrance is a celebration of light and nature, radiating a sense of positivity and serenity. Top Notes: The fragrance opens with a burst of bright and zesty orange, instantly uplifting the mood and filling the air with a vibrant energy. This top note represents the radiant rays of the sun as they illuminate the horizon, setting the stage for the olfactory journey ahead. Middle Notes: As the fragrance develops, the sweet and comforting notes of honey come forward, creating a sense of warmth and coziness. The honey note adds a touch of indulgence and sophistication, reminiscent of the golden hues of the sunset. It brings a comforting and inviting element to the composition. Base Notes: The base of Ray of Light is anchored by the enchanting and balsamic spices, which add depth, complexity, and a hint of mystery to the fragrance. These spices mimic the exotic scents that fill the air during a picturesque Adriatic sunset, creating an alluring and captivating experience. Overall Impression: Ray of Light is a captivating fragrance that transports you to an Adriatic sunset, immersing you in the warmth and tranquility of the moment. With its vibrant orange, comforting honey, and enchanting balsamic spices, this fragrance embodies the beauty of nature and the positivity of light. It is perfect for those who seek a fragrance that radiates warmth, serenity, and a touch of mystery, creating an unforgettable sensory experience
DISPATCH INFORMATION
DISPATCH INFORMATION
* Beard Polisher size is not fit to be shipped as Mail inbox size parcel, add products to make your order more convenient.
COSMETIC SAFETY
COSMETIC SAFETY
* This quality product has been carefully cosmetic safety assessed for your convenience, but as with every product, refrain from use if allergic reaction occurs and contact SUPERFURRY for further advice.