PIMPS & PUSHERS
Brand:

SUPERFURRY

Product Code:

FURRYDANDY PIMPS & PUSHERS

Availability:

In Stock
&..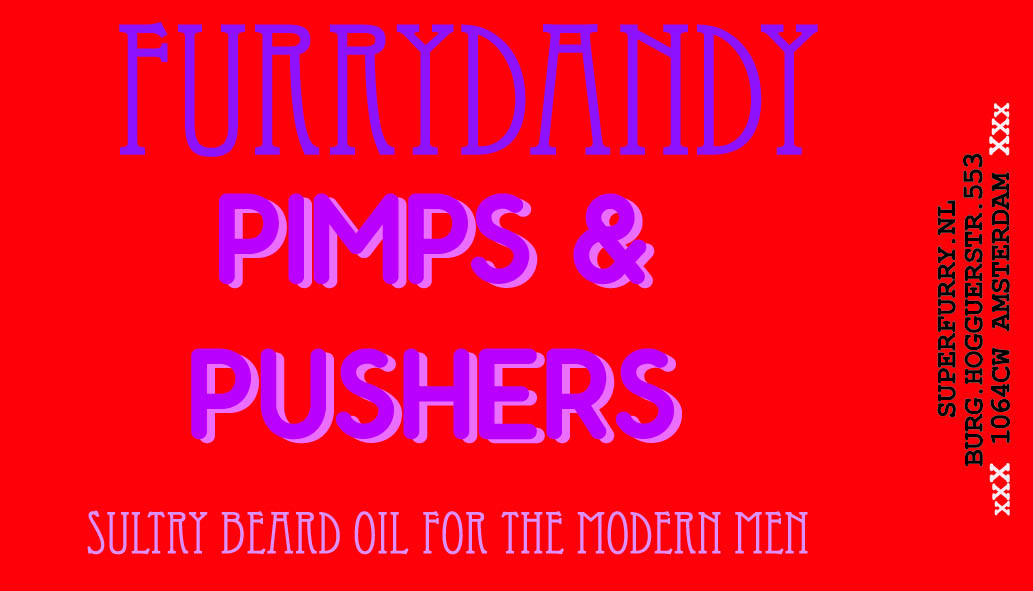 50ml
Step into the allure of our fragrance "Pimps, Pushers & Prostitutes," a sultry and richly spiced scent that exudes a captivating blend of both the ordinary and the extravagant. This fragrance embodies the essence of a tiger printed shirt paired with a satin silk shirt on a disco floor. It evokes nostalgia reminiscent of a 70s detective show on TV, combining mystery and sensuality.
* This Product is not fit to be shipped as Mail inbox size parcel. Add products to make your order more convenient.
DETAILED SCENT PROFILE ? CHECK SPECIFICATION TAB !
WATCH THE BEARDED DUDE AND HIS REVIEW ON THIS PRODUCT!
FRAGRANCE PROFILE
FRAGRANCE PROFILE
Pimps&Pusher is a sultry and seductive fragrance that draws inspiration from a 70s TV series. This scent captures the essence of the era, exuding a mysterious and alluring aura that evokes the glamorous and gritty world depicted in the show. Top Notes: The fragrance opens with a captivating blend of spicy notes, such as black pepper and cinnamon, creating a sense of intrigue and sensuality right from the start. These top notes set the stage for the seductive journey that lies ahead. Middle Notes: As the fragrance develops, a rich and intoxicating accord of leather and tobacco takes center stage. These middle notes embody the rebellious and alluring nature of the characters in the TV series, adding depth and complexity to the fragrance. Base Notes: The base of Pimps&Pusher is a fusion of warm and inviting notes, such as amber, patchouli, and vanilla. These notes bring a sense of sensuality and comfort, leaving a lingering trail of seduction wherever you go. Overall Impression: Pimps&Pusher is a fragrance that pays homage to the captivating world of a 70s TV series. With its spicy top notes, leather and tobacco heart, and warm base, it captures the essence of the era and invites you to embrace your own sensuality and intrigue. This fragrance is perfect for those seeking a sultry and seductive scent that channels the spirit of the glamorous and gritty 70s.
DISPATCH INFORMATION
DISPATCH INFORMATION
* This product is not fit to be shipped as a Mail inbox size parcel.
COSMETIC SAFETY
COSMETIC SAFETY
* This quality product has been carefully cosmetic safety assessed for your convenience, but as with every product, refrain from use if allergic reaction occurs and contact SUPERFURRY for further advice.